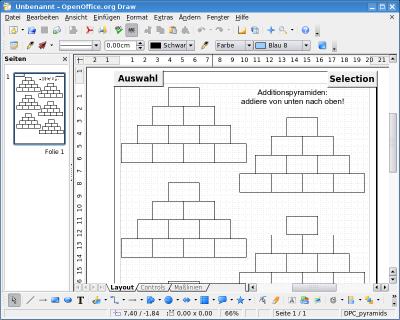 His DPTC_pyramids.otg is a useful template to print out exercise sheets for primary school for teaching addition and multiplication.
It's macro based and Draw is used to draw the lines of the pyramids and to print it out.
This is a bilingual version including german and english texts.
For the translation into other languages, read the instructions in module "Pyramidenmodul".
One of the buttons "Auswahl" or "Selection" may be removed from the document without problems.
Gisbert Friege
____________________________________________________
[Author]
Gisbert Friege
ooo@friege.de

Copyright Gisbert Friege
[License]
PDL
http://www.openoffice.org/licenses/PDL.html
[Declaration]
" I confirm that I am the sole author of this template or graphic.
This work is created from my own ideas and materials.
No third party license or materials are included that will affect
licensing under the Public Document License (PDL) or
GNU Lesser General Public License (LGPL).
Furthermore I confirm that I am entitled to place the submitted
template or graphic under this license."
Eine Übersicht über die Seiten der Box bietet die
Sitemap
. Hier geht es zum
Seitenanfang
. Und hier gelangen Sie zum
Impressum
. Wer hier was macht lesen Sie
hier
.