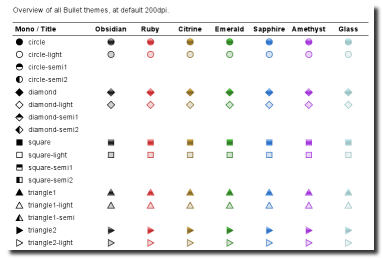 His Bullets collection is able to replace most of the bullets in the actual "Bullets" gallery. With alpha transparency and much higher resolution they look really "smooth" compared to the bullets used by now. It's a set of different colored bullets and even more black/white bullets for high contrast themes (accessibility).
____________________________________________________
[Author]
Andrew C.E. Dent
[License]
GNU Lesser General Public license (LGPL)
Version 2.1 or any later version, at your option.
[Declaration]
" I confirm that I am the sole author of this template or graphic.
This work is created from my own ideas and materials.
No third party license or materials are included that will affect
licensing under the Public Document License (PDL) or
GNU Lesser General Public License (LGPL).
Furthermore I confirm that I am entitled to place the submitted
template or graphic under this license."
Eine Übersicht über die Seiten der Box bietet die
Sitemap
. Hier geht es zum
Seitenanfang
. Und hier gelangen Sie zum
Impressum
. Wer hier was macht lesen Sie
hier
.